'NATIVE GARDENS FOR NATURE'S SAKE' – MGOI North Region MG Technical Day
April 9, 2022 @ 8:30 am

-

3:00 pm

$20
Doug Tallamy, Heather Holm & Joseph Pitawanakwat present topics on Protection and Conservation of Native Plants for our Ecosystem.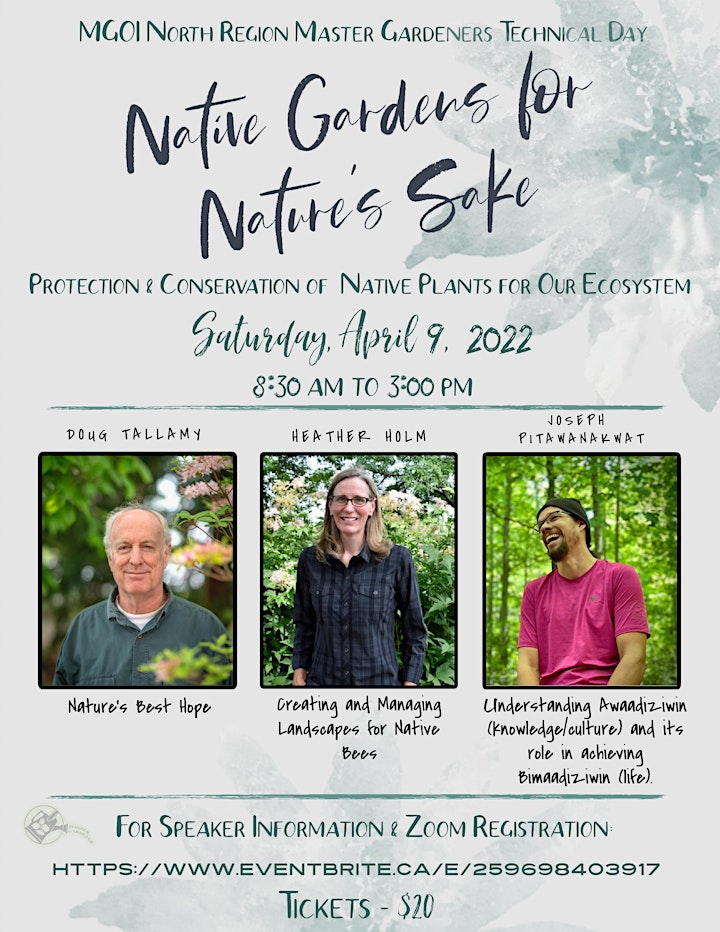 Virtual Doors open at 8:30am
Doug Tallamy 9:00am - 10:30am
"Nature's Best Hope"
Heather Holm 11:00am - 12:30pm
"Creating and Managing Landscapes for Native Bees"
Joseph Pitawanakwat 1:00pm - 2:30pm
"Understanding Awaadiziwin (knowledge/culture) and its role in achieving Bimaadiziwin (life)"
Tech Day closes at 3:00pm
Doug Tallamy
"Nature's Best Hope"
Recent headlines about global insect declines and three billion fewer breeding birds in North America are a bleak reality check about how ineffective our current landscape designs have been at sustaining the plants and animals that sustain us. To create landscapes that enhance local ecosystems rather than degrade them, we must add the plant communities that sustain food webs, sequester carbon, maintain diverse native bee communities, and manage our watersheds. Native plants do all of these things better than plants from other continents. If we do this on our private properties, we can create Homegrown National Park, a network of viable habitats that will provide vital corridors connecting the natural areas that remain. This approach to conservation empowers everyone to play a significant role in the future of the natural world and thus our own future.
Doug's Bio
Doug Tallamy is the T. A. Baker Professor of Agriculture in the Department of Entomology and Wildlife Ecology at the University of Delaware, where he has authored 106 research publications and has taught insect related courses for 41 years. Chief among his research goals is to better understand the many ways insects interact with plants and how such interactions determine the diversity of animal communities. His book Bringing Nature Home was published by Timber Press in 2007, The Living Landscape, co-authored with Rick Darke, was published in 2014; Nature's Best Hope, a New York Times Best Seller, was released in February 2020, and his latest book The Nature of Oaks was released by Timber press in March 2021. His awards include recognition from The Garden Writer's Association, Audubon, The Garden Club of America and The American Horticultural Association.
Heather Holm
"Creating and Managing Landscapes for Native Bees"
When creating and managing thriving habitats for native bees, many factors such as seasonal phenology, nesting strategies, and flower preferences must be considered—and with approximately 3,600 species in North America (north of Mexico), there are many unique aspects to keep in mind when managing successful landscapes for bees in our Northern ecosystem.
Join pollinator conservationist and author Heather Holm as she explores the nesting habitats, life cycles, pollen collection, brood rearing, and general characteristics of some of the most common native bees in eastern North America, while highlighting the pollination of native plants and the mutualism between native plants and native bees. Learn about pollen specialists, the presentation of floral resources, and how the physical characteristics of bees can influence their effectiveness as pollinators. Heather will also discuss ways to manage landscapes to enhance bee diversity, plant selection considerations, and ultimately how to think like a bee!
Heather's Bio
Heather Holm is a biologist, pollinator conservationist, and award-winning author. In addition to assisting with native bee research projects, she informs and educates audiences nationwide, through her writing and many presentations, about the fascinating world of native pollinators and beneficial insects, and the native plant communities that support them. Her first book, Pollinators of Native Plants, was published in 2014, and her second book, Bees, published in 2017, has won six book awards including the 2018 American Horticultural Society Book Award. Her latest book, Wasps, was published in February 2021. Heather's expertise includes the interactions between native pollinators and native plants, and the natural history and biology of native bees and predatory wasps occurring in the Upper Midwest and Northeast. Currently, she is working on three projects with volunteers, restoring approximately ten acres of city-owned park land in her neighborhood for pollinators and people.
Joe Pitawanakwat
"Understanding Awaadiziwin (knowledge/culture) and its role in achieving Bimaadiziwin (life)"
Story-telling plant medicine knowledge and its role in the management of the Chronic Disease Epidemic and associated morbidities. We discuss disease pathology and why culture is the only appropriate intervention. We will acknowledge various cultural components as unique humans gifts necessary for life and healing.
We will focus, of course, on the (provided) plant medicines and understanding its mechanism. With us all at a solid understanding of this knowledge (awaadiziwin) and how it is required to achieve life itself (bimaadiziwin) the conversation then, necessarily focuses on the unique human ability to engage in reciprocal relationships with medicines themselves, and our roles and responsibilities to Aki, the land.
Joe's Bio
Joseph Pitawanakwat is an educator who specializes in plant based medicine. He is the founder and director of Creators Garden. He is from Wiikwemkoong unceded territory. Joseph will share traditional Anishinaabe plant knowledge, that his grandmother taught him. He has continued to increase his knowledge in an attempt to preserve the language specific to plant names and how they were used for generations. We need to learn the names of native plants, why they have that name, what gifts they have, how we can help them and why we need to spend time with native plants.