Grounded in Science: Master Gardeners Association of Alberta Fall Symposium
November 5, 2022 @ 9:00 am

-

3:00 pm

$40
A day of enlightenment and enjoyment as we explore gardening with insects, invasive plants and gardening with ground covers.
Join us as we explore the impact plant invasion has on our environment and learn of methods being used to reduce their introduction and spread with Environmental Horticulturalist Andrea Eastman; How growing ground cover plants reduces maintenance, controls erosion, improves the environment, and beautifies your garden with Gary Lewis of Phoenix Perennials; Discover how insects and plants interact; and, how to design gardens with insects in mind with Dr. Ken Fry of Olds College.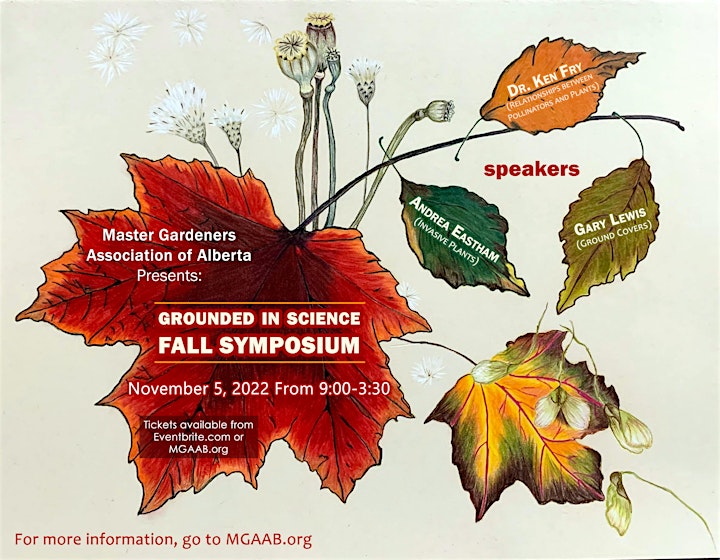 Ornamental Horticulture, Invasive Plants and Climate Change: with Andrea Eastham, P.Ag.
Invasive plants are a global issue and the ornamental industry has long been recognized as a key pathway of introduction. Climate change is another global issue. Linking invasive species and climate change has become a focus of study for researchers, modellers, and land managers.
This presentation will provide an understanding of plant invasion and their impacts, describe initiatives being used to reduce the introduction and spread of invasive plants in ornamental horticulture, and provide best practices for gardeners.
Andrea Eastham is a Professional Agrologist, Retired Status, who moved to Calgary, in 2017. She continues to work on plant science projects including initiatives for the Canadian Council on Invasive Species (CCIS), the AB Invasive Species Council (AISC), and the BC Provincial Government.
The Complete Talk on Ground Covers, with Gary Lewis of Phoenix Perennials.
Ground cover plants reduce maintenance, control erosion, improve the environment, and beautify the landscape. Widely thought of as utilitarian, these plants offer a diverse range of beautiful and intriguing options in a variety of colors, textures, and forms. They can unify a landscape, knit together plantings and hardscape, and add extra layers of beauty, dynamism, and surprise. As a replacement for lawns, they can reduce our use of water, fertilizer, pesticides, herbicides, carbon-based fuels, and transform a yard into a diverse landscape of habitat and food for native insects, birds, and other wildlife. In this companion talk to Gary's encyclopedia The Complete Book of Ground Covers to be published by Timber Press in fall 2022, Gary will highlight the functional and aesthetic uses of ground covers in the landscape including tips and tricks for designing with ground covers to take your outdoor space to the next level and a discussion on the diverse services ground covers can provide to make gardens more sustainable.
Gary Lewis began collecting houseplants at the age of 10 and began gardening at the age of 15. He holds a Masters of Science degree in Plant Ecology from the University of British Columbia, training which, with its focus on the botany and ecology of wild plants, greatly informs his horticulture. Gary became the owner of Phoenix Perennials in 2004 on his 28th birthday. Since that time he has greatly expanded the nursery to include one of the largest and most exciting selections of perennials in Canada.
Gary is a frequent speaker at home and garden shows, professional conferences, and garden club meetings. He has written for various magazines including Gardens West, Garden Making, and Fine Gardening. Gary has accumulated many hounors such as; Communicator of the Year by the BC Landscape and Nursery Association (2013); one of Canada's "Top 10 Horticultural Professionals Under 40" by Greenhouse Canada magazine (2014).
Gary has lead botanical and garden tours to Holland and Belgium, New Zealand, South Africa, and Western Australia with future trips planned for Ireland, France, and a return to South Africa.
Plant-Insect Interactions: How to select the plants for your garden that optimize their service to and by insects; with Dr. Ken Fry PhD, Olds College
Insects and plants can be the best of friends or the worst of enemies. It all depends on the plant, the insect, and how we design our gardens. We will explore how insects interact with plants, what qualities and properties of plants attract or repel insects, and which plants to select to get the best outcome in our garden. What qualities do pollinators prefer? Which plants do beneficial insects need? What sorts of garden design or features best support a fully functioning ecosystem? These are the practical aspects of plant-insect interactions that will be addressed
Dr. Ken Fry, Entomology Instructor in the School of Life Sciences & Business at Olds College, has been involved in insect pest management research, teaching, and extension for over 30 years. His research is focused on biological control of insect pests and integrated pest management. Current research projects include the introduction of a parasitic wasp to manage the lily beetle, surveillance of invasive species affecting the urban forest, and evaluating the effects of Aphodiine beetles on turfgrass.
Ken's "happy place" is in the Olds College Insect Collection where he serves as curator for 100,000 specimens. Ken is co-author, with Doug Macaulay and Don Williamson of "Garden Bugs of Alberta" and a contributing author to "Organic Farming on the Prairies".